I have a mixed language project with some Assembler files, which have file extension ".s". When any of the source directories containing Assembler files are displayed in Files/Nautilus, the .s files are shown like this: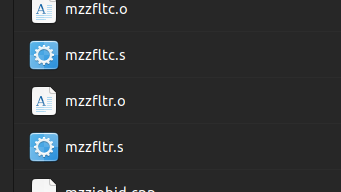 Other files (.c, .cpp, etc.) show as text files. Right clicking on one of the .s files shows the following:
However, the file shell command shows them as ASCII text files:
someguy@somesys:~/projects/someproj/src$ file mzzflt*.s
mzzfltc.s: ASCII text
mzzfltr.s: ASCII text

I'm quite sure that this behaviour started recently, although I'm not in a position to prove it. I have the same behaviour on two systems running Ubuntu 22.04 LTS. On one of the two systems, double-clicking one of these files still opens the file in gedit. On the other, it tries unsuccessfully to open it in archive manager.
For both systems:
someguy@somesys::~$ nautilus --version
GNOME nautilus 42.6

Checking if there is anything stupid that I've missed.