I want to get the clipboard content, there are 2 buttons, one puts the word gintro in the buffer, the second prints the contents of the buffer to the console.
If I first click paste and then print buffer, then everything works well. But if I press print right after starting the program, it turns out that the buffer content is empty( content = nil ) despite the fact that the clipboard is not empty(I can ctrl v something).
Im getting clipboard from window. As far as I understand, this is just an easier way than getting the Display first and then the Clipboard, since when I get the Clipboard from the Window, it's the same as getting the Clipboard of the Display on which the Window is displayed. So I don't understand why the Clipboard is initially empty.
P.S. this is Nim language with GitHub - StefanSalewski/gintro: High level GObject-Introspection based GTK3/GTK4 bindings for Nim language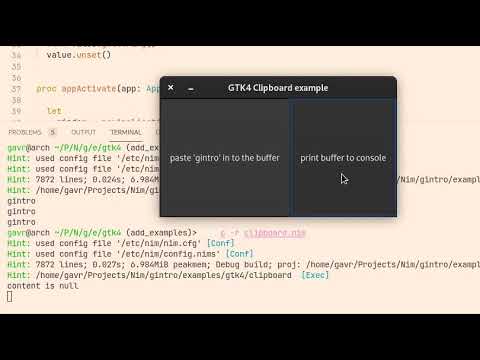 # nim c -r clipboard.nim

import gintro/[gdk4, gtk4, gobject, gio]
import std/with


proc copy_text(self: Button, clb: Clipboard) =
  assert clb != nil

  var value: Value
  discard init(value, g_string_get_type())
  value.setString("gintro")
  clb.set(value)
  value.unset()

  

proc paste_text(self: Button, clb: Clipboard) =
  assert clb != nil

  var value: Value
  discard init(value, g_string_get_type())

  let content = clb.getContent 
  if content == nil: 
    echo "content is null"
    return

  if not content.getValue(value):
    echo "no value"



  echo value.getString()
  value.unset()


proc appActivate(app: Application) =

  let
    window = newApplicationWindow(app)
    box = newBox(Orientation.horizontal, 0)
    btnPaste = newButton("print buffer to console")
    btnCopy = newButton("paste 'gintro' in to the buffer")
    clb = window.getClipboard()
  with box:
    append btnCopy
    append btnPaste


  btnCopy.connect("clicked", copy_text, clb)  
  btnPaste.connect("clicked", paste_text, clb)  


  with window:
    title = "GTK4 Clipboard example"
    defaultSize = (200, 200)
    child = box
    show

proc main =
  let app = newApplication("org.gtk.example")
  connect(app, "activate", appActivate)
  discard run(app)

main()